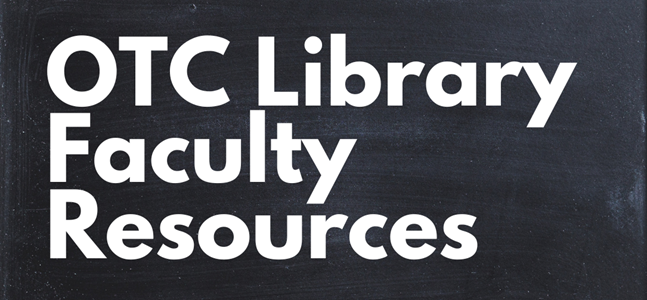 Library Concierge (NEW!)
Get library items delivered to your office or mailbox! Library Concierge is available to faculty or staff on the OTC Springfield campus. Tell us what you're looking for, whether it's a particular title or just a topic, and we'll fetch it and bring it to you! Start your Library Concierge Request now.
Open Educational Resources (OER)
Request Items Through Inter-Library Loan
Suggest a Library Purchase
Library Databases for Your Program
We have research guides with lists of recommended databases by discipline for students and faculty. Check out these resources, and use starred resources to identify best bets for each subject area. See our Database By Subject guides.
How We Support Your Students
What Else?
Here are a few more things you should check out at OTC Library!
Check out our Professional Development Collection! The library regularly purchases books about reflective teaching, educational technologies, and broader issues in higher education. As an OTC instructor, you also have access to millions of books via the MOBIUS consortium. Finally, we welcome your suggestions if there are titles you'd like us to consider purchasing.
Don't see a journal specific to your discipline? Try searching Education Source, ask a librarian for a recommendation, or submit a recommendation for library purchase.
Chronicle of Higher Education – published online every weekday, The Chronicle is a leading source of news, information, and job postings for college and university faculty members and administrators. (User Guide for Chronicle Access)
Community College Journal of Research and Practice – a multidisciplinary forum for researchers and practitioners in higher education and the behavioral and social sciences. It promotes an increased awareness of community college issues by providing an exchange of ideas, research, and empirically tested educational innovations.
Currents in Teaching and Learning (open access) – published twice a year, Currents seeks to improve teaching and learning in higher education with short reports on classroom practices as well as longer research articles and explorations of issues and challenges facing teachers today.
Department Chair (1 year embargo)- written for academic administrators at every level, this newsletter features in-depth articles that deliver sound insight and proven strategies essential for successfully leading an academic department, division or other unit.
Journal of Career and Technical Education (open access) – a peer-reviewed electronic journal whose scope includes research conducted in the context of academic and career/technical education integration, agricultural education, business education, technology education, family and consumer sciences, and other related disciplines.
Journal of Chemical Education – the official journal of the Division of Chemical Education of the American Chemical Society, JCE typically addresses chemical content, activities, laboratory experiments, instructional methods, and pedagogies.
Journal on Empowering Teaching Excellence (open access) –  intended audience includes faculty and professionals at all institutions who teach, develop instruction, and conduct research related to teaching in higher education.
Journal of Faculty Development – an independent, peer-reviewed journal for the exchange of information regarding faculty development in post-secondary educational institutions.
Journal of Technical Writing and Communication – serves as a major professional and scholarly journal for practitioners and teachers of most functional forms of communication.
New York Times – site registration required before first use: select OTC & follow instructions for on- or off-campus account activation. Must use OTC email address & set individual password; then login on website or NYT app on a mobile device.
New York Times in Education – teaching resources; site registration required.
Teaching Professor – Formerly Online Classroom & Teaching Professor, this website offers practical advice and emerging research and evidence-based strategies for effective teaching in higher education. Aimed at busy faculty who seek practices they can implement right away in their teaching. Useful for anyone teaching in a face to face, online, or hybrid format.