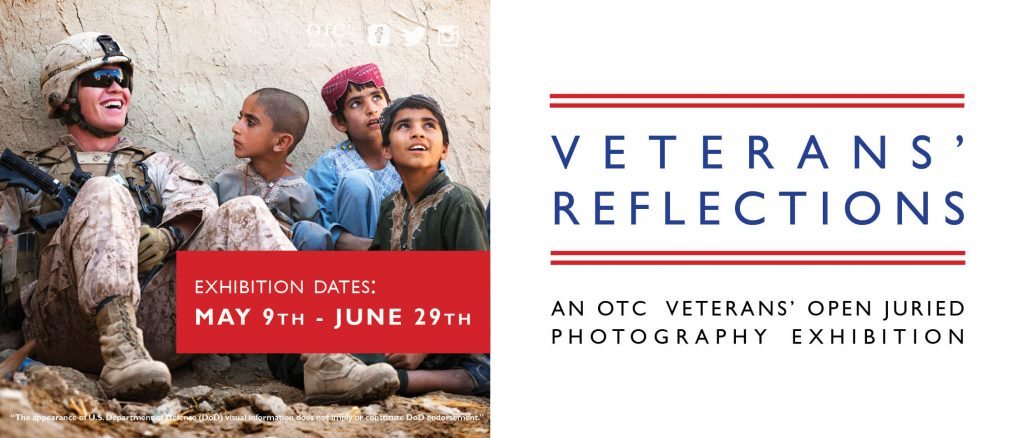 OTC's Veteran and Military Services Office along with the Fine Arts Department, are looking for photographic image submissions from members of the OTC educational community.  The photograph should have been taken by a member of our nation's armed services while on deployment, assignment, temporary duty, or other time of service.  The photographer's defining image should provoke special memories or give pause for personal reflection about a time or experience while serving our country.
Jurors– A panel of six OTC Administrators, Staff, and Fine Art Faculty.
Exhibition Details– 35-40 selected images will hang in the OTC Fine Art student gallery space in the NKM Springfield Main campus for approximately one month.  The jury panel reserves the right to reject any piece that may not fit the theme of our exhibition or that may not be high enough resolution quality for 11"x14" print and display.
OTC will print and then prepare (mat or frame) your chosen image/s for display at no charge.
Copyright– Artist retains all copyrights to their own images. Artists whose work is chosen for exhibition inclusion grant OTC permission to use images for promoting the exhibition, artist, or OTC and its programs, and current and past exhibitions. Images may be placed on social media for promotion and features. Artists grant usage as stated without further compensation.  The 11"x14" print made by OTC will become an OTC Flat File artwork piece available for viewing, and it may be exhibited again at future OTC exhibitions and other OTC campus locations.
Thank you for entering the competition and good luck!
Calendar          
Submissions Open 4/6/18
Submissions Close 4/27/18
Selections Announced 5/3/18
Exhibition Opens 5/9/18
Exhibition Reception 5/10/18, NKM lobby 1PM TO 3PM