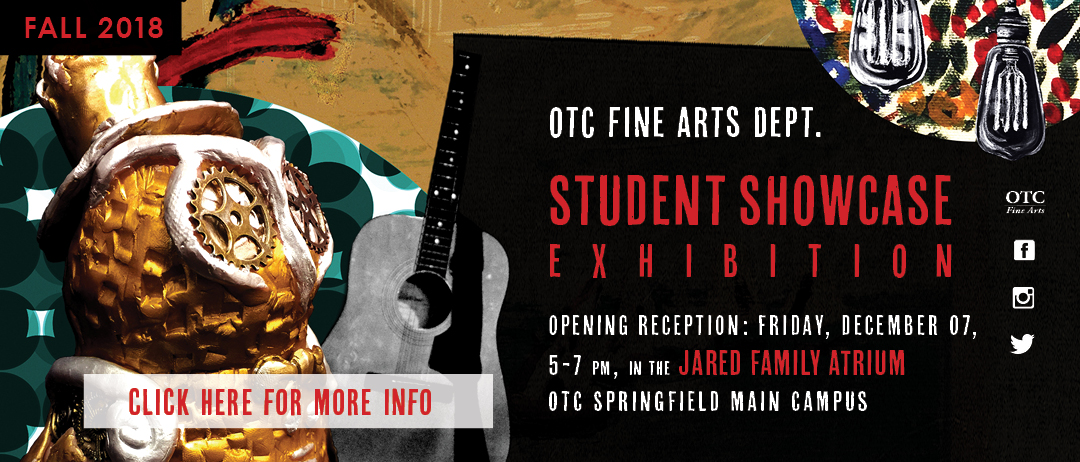 Welcome to the OTC Fine Arts & Humanities Department. 
The Fine Arts and Humanities department encourages the spirit and process of exploration and how that imaginative process is informed by social, cultural and historical contexts. Our courses combine the traditional liberal arts format with applied studio courses in order to promote a dynamic learning experience. As we prepare Fine Arts and Humanities majors for successful transfer to a four year institution, we promote independent critical thinking, ethical collaboration and community engagement. The Fine Arts department engages our community and makes arts accessible to all through the operation and production of our music and theater performances, ceramic class demonstrations, art gallery exhibitions and First Friday Art Walk receptions.
Trending Now at OTC Fine Arts
Photos from OTC Fine Arts Department's post
Looking for something new and fun to take this semester? We have you covered! Be sure to register now, before these classes fill up!
OTC Fine Arts Department added 2 new photos.
Ozarks Technical Community College
The OTC Fine Arts Department presents "High School Non Musical" this weekend at the Springfield Art Museum. Jonathan Dorf's hilarious comedy parodies Disney's classic "High School Musical." The plot follows Toy Boatin, the captain of the Roswell High School bowling ...
Reserve your FREE tix NOW! Performance this weekend at the Springfield Art Museum! Don't miss this hilarious OTC… https://t.co/x2DU3eKPHj
Tune in this morning to KSMU ART NEWS with Randy Stewart as he interviews our cast of "High School NON Musical"! Y… https://t.co/tKg5B91xWt