OTC Student Showcase, FFAW December 2017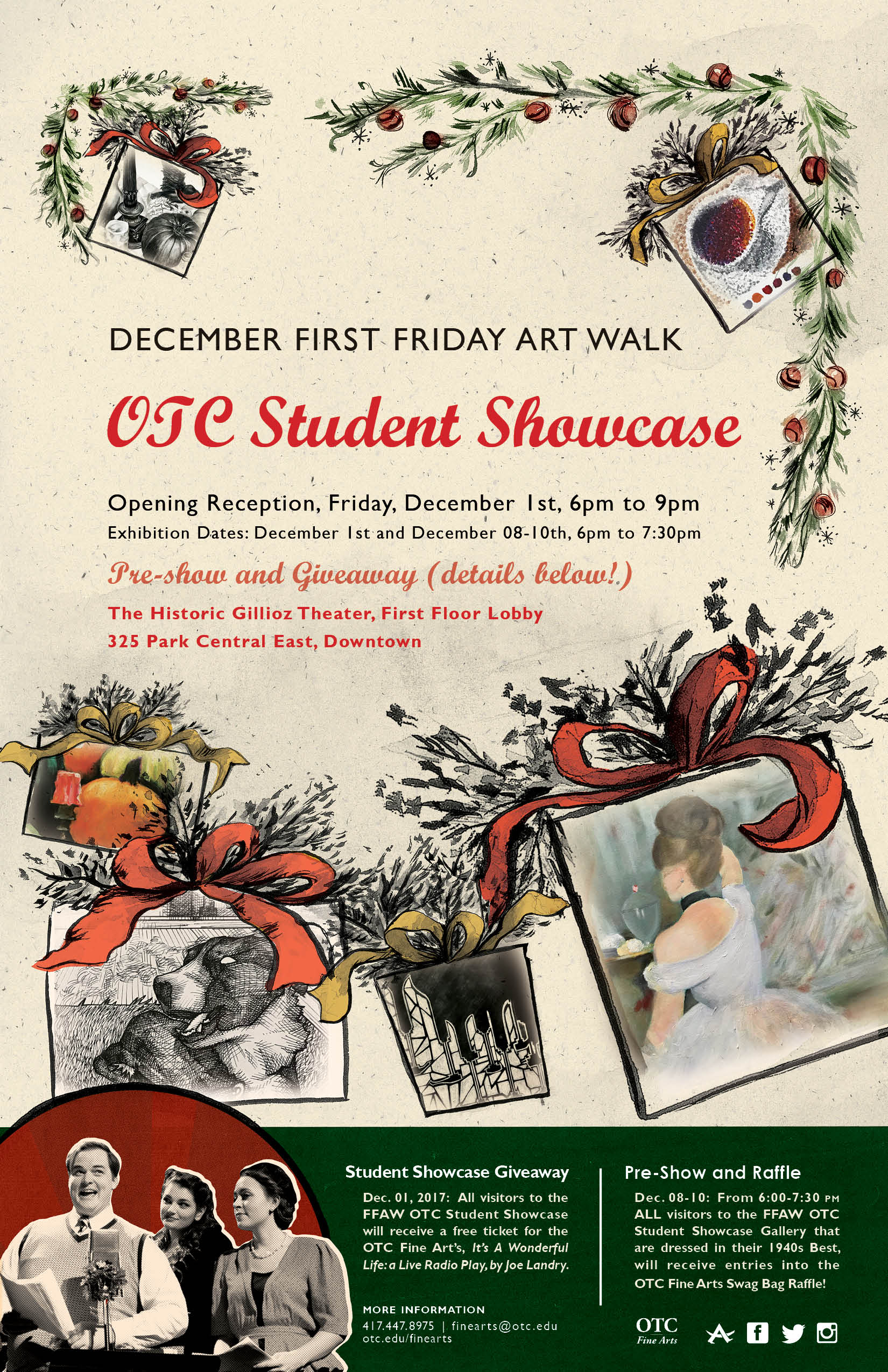 OTC Fine Arts Gallery cordially invites you to attend this semester's OTC Student Showcase Exhibition.
Join us Friday, December 01, 2017, from 6PM to 9PM on the 1st floor of the Gillioz Theater. We will have the best on display from our visual arts courses such as drawings, paintings, and work from our foundations classes.
As a way to say thank you and to share a gift this holiday season, the exhibition will also host a Pre-Show and Giveaway, in concordance with OTC Theater's holiday production.  All visitors to the FFAW OTC Student Showcase Opening will receive A FREE TICKET for the OTC Fine Art's production of, It's A Wonderful Life: a Live Radio Play, by Joe Landry.
The Pre-performances for the show will also take place on the Dec. 08-09 showings, from 6:00 p.m. – 7:30 p.m., in concurrence with the exhibition of the Student Showcase. ALL visitors to the FFAW OTC Student Showcase Gallery that are dressed in their 1940s best, will RECEIVE ENTRIES into the OTC Fine Arts Swag Bag Raffle!
First Friday Art Walk Fall Student Showcase promises to be a wonderful celebration of hard-work and creativity culminating in this end of the semester community event!
OTC Fine Arts Department and Gallery
(417) 447-8975  |  otc.edu/finearts  |  #otcfinearts
It's a Wonderful Life: A Live Radio Play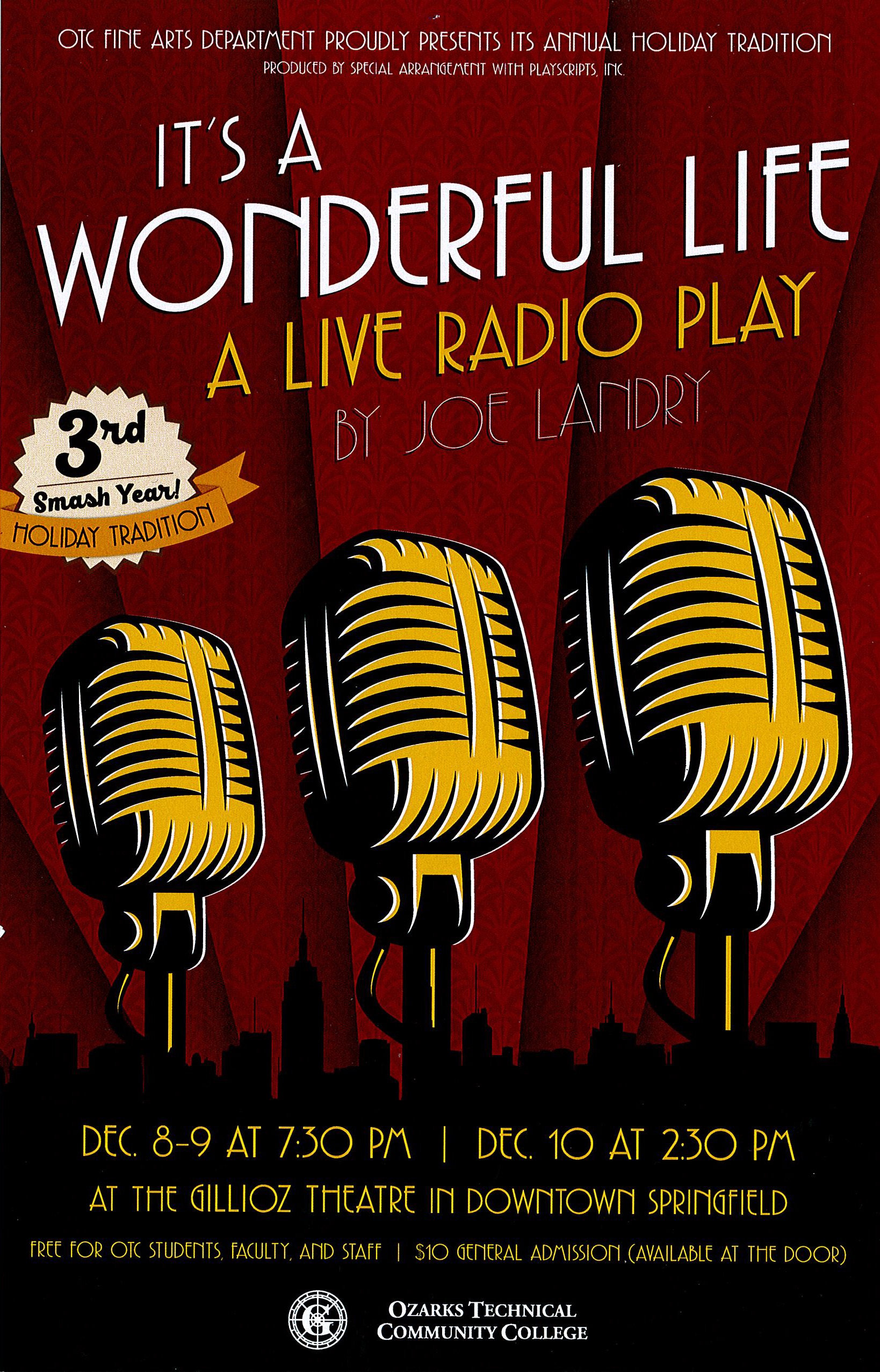 SPRINGFIELD, MO — The Ozarks Technical Community College Fine Arts Department will present its annual holiday production of "It's a Wonderful Life: A Live Radio Play" at the Gillioz Theatre Friday and Saturday, Dec. 08-09 at 7:30 p.m. with a matinee on Sunday, Dec. 10, at 2:30 p.m.  A pre-performance will also take place on the Dec. 08-09 showings, from 6:00 p.m. – 7:30 p.m., and is in concurrence with the Student Art Exhibition in the Gillioz lobby and 3rd floor.
Please join us as we travel back to the 1940s for an evening filled with laughter and holiday cheer!
About the Show:
"It's a Wonderful Life: A Live Radio Play" is set in WGLZ Playhouse of the Air, a 1940s radio studio theatre. Seven actors deliver all the lines from the classic film and create live sound effects. The plot follows the heartwarming story of George Bailey, a man who ─ after a series of unfortunate circumstances ─ wishes he had never been born. His mindset shifts from despair to joy after a visit from Clarence, his 292-year-old guardian angel. Clarence helps reawaken George's appreciation of life by showing George what his world and loved ones' lives would be like without him.
Tickets for the production will be available at the door, and guests are encouraged dress in '40s attire for an immersive theatrical experience. General admission tickets cost $10. General admission tickets are free to OTC students, faculty and staff who present a valid college ID at the door.
About Ozarks Technical Community College
The Ozarks Technical Community College system offers associate degrees and certificates in a variety of technical, allied health, and two-year transfer degree programs, as well as workforce development opportunities and community enrichment courses. Classes are available at six locations throughout southwest Missouri, including the option to earn a complete associate degree online. Find additional resources and information about OTC (including official wordmarks and images) at otc.edu/news.
Photos from the 2016 performance: