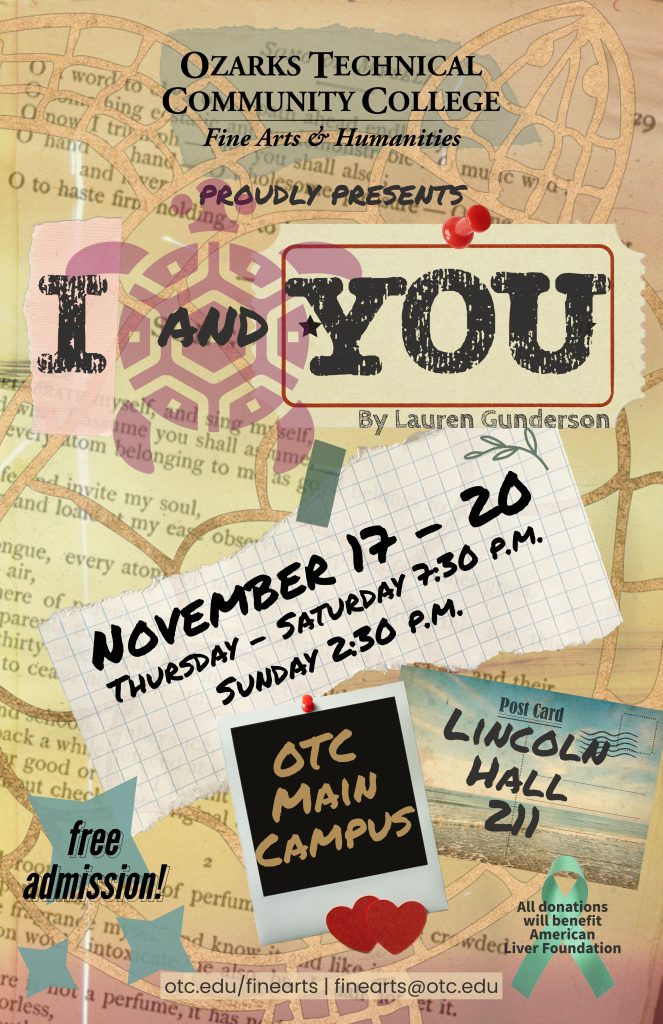 AUDITION NOTICE!
Seeking Actors for OTC Fine Arts Department's Fall Theatre Production of
I and You by Lauren Gunderson
One afternoon, Anthony arrives unexpectedly at classmate Caroline's door bearing a beat-up copy of Walt Whitman's Leaves of Grass, an urgent assignment from their English teacher. Homebound due to illness, Caroline hasn't been to school in months, but she is as quick and sardonic as Anthony is athletic, sensitive, and popular. As these two let down their guards and share their secrets, this seemingly mundane poetry project unlocks a much deeper mystery that has brought them together. I and You is an ode to youth, life, love, and the strange beauty of human connectedness.
ROLES:
ANTHONY, a boy, 17. African-American*. He is neat, poised, mature for his age. He's an "A" student, a team player, a nice guy. He's not really great around girls. He takes his homework very seriously. When he likes something (jazz music) he is all in. Throughout the whole play he looks at Caroline like he's trying to figure her out. Like he really needs to know who she is.
CAROLINE, a girl, 17. White*. She is in comfy clothing, she does not expect company, she is sick but mainly just looks a little weak and frumpy. She doesn't go out. She is cynical, over it, does not let a stray "feeling" near the surface.
*The race of each character can be altered. The only essentiality is that the characters not be the same race.
When?  Wednesday, Sept. 14th at 6pm
or Thursday, Sept. 15th at 6pm.
Callbacks: Friday, Sept. 16th at 6pm
Where? OTC Springfield Campus, ICE 221
What?   Auditions will consist of reading excerpts from the script.
The production will run November 11-13 at OTC in Lincoln Hall room 211. Rehearsals are tentatively scheduled from 6pm-10pm on Tuesdays through Fridays beginning October 4.
Register here to audition (please complete this before your audition).
For more information, contact theatre director Jon Herbert at herbertj@otc.edu, or at 417-447-8979.
Seeking Crew Members
for OTC Fine Arts Department's Fall Theatre Production of
I and You by Lauren Gunderson
Set | Properties | Costumes | Lighting | Board Operators | Backstage Crew | Front of House | Promotions
No experience necessary to apply!
To apply: 
Register here by September 15th to apply for a crew position. 
Then, sign up here for a 15 minute interview. 
 Interviews may be conducted in person or on Zoom.
Interviews for crew positions will occur:
Friday, September 16 from 12pm-2pm
Tuesday, September 20 from 10am-12pm
Thursday, September 22 from 10am-12 pm
Friday, September 23 from 12pm-2pm
For more information, contact theatre director Jon Herbert at herbertj@otc.edu, or at 417-447-8979