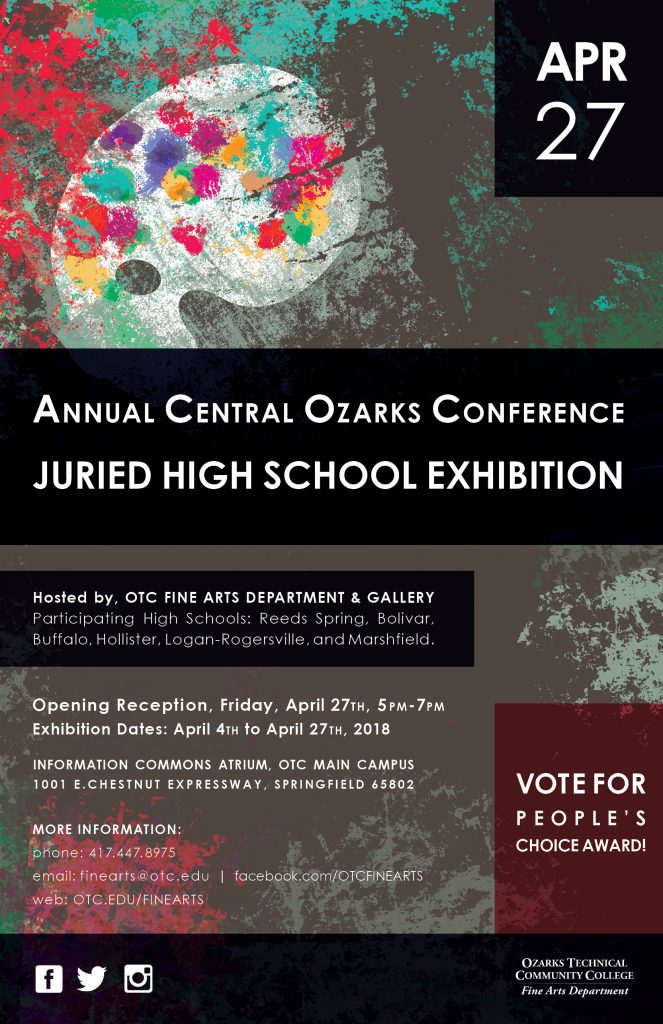 SPRINGFIELD, MO., March 22, 2018– OTC FINE ART DEPARTMENT announces the ANNUAL CENTRAL OZARKS CONFERENCE JURIED HIGH SCHOOL EXHIBITION which will open on Wednesday, April 4th, 2018.
Awards Ceremony Reception from 5-7PM in the OTC Main Campus Information Commons Atrium, 1001 E. Chestnut Expressway, Springfield, MO.
OTC Fine Department & Gallery enthusiastically presents this annual juried exhibition promoting regional high schools' emerging artists while celebrating the inspired dedication of their art instructors.  Six high schools:  Reeds Spring, Bolivar, Buffalo, Hollister, Logan-Rogersville, and Marshfield will be representing 27 different visual art categories!
The art exhibition will be on display throughout the OTC Fine Arts gallery exhibition areas in NKM and the IC building located on the Springfield Main campus.  The exhibition will run from April 4th to April 27thwith a culminating Awards Ceremony on Friday April 27th at 5pm in the IC Atrium.  We will also invite exhibition viewers to vote for a "People's Choice Award".  The student artist who receives this award will be given an art supply gift certificate to National Art Shop donated by OTC Fine Arts Department.
OTC Fine Arts Department and Gallery
(417) 447-8975  |  otc.edu/finearts  |  #otcfinearts