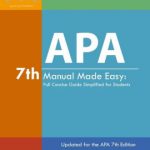 How Do I Cite That?
Book (one author):
Barrera Saldaña, H. A. (2014). Monkeys: Brain development, social and hormonal mechanisms and zoonotic diseases. New York: Nova Science Publishers, Inc.
What if the book has two authors?
Meier, S.T.., & Davis, S.R. (1993). The elements of counseling. Pacific Grove, CA: Brooks/Cole Pub.
What if the author isn't a person, but an organization?
Ozarks Technical Community College. (2017). 2017-2018 Academic catalog and student handbook. Retrieved from https://catalog.otc.edu/
Journal Article with DOI:
Sade, R. M. (2017). Introduction: Controversies in clinical research ethics. Journal of Law, Medicine & Ethics, 45(3), 291-294. doi:10.1177/1073110517737525
Academic Article without DOI, from a Library Database:
Bolat, M. (2016). The development and implementation of a model for teaching astronomy to deaf students. Journal of Education and Training Studies, 4(7), 14-27. Retrieved from http://ezproxy.otc.edu/login?url=http://search.ebscohost.com/login.aspx?direct=true&db=eric&AN=EJ1096659&site=ehost-live
Academic Article without DOI, from the Web:
De Graeve, K., Vervliet, M., & Derluyn, I. (2017). Between immigration control and child protection: Unaccompanied minors in Belgium. Social Work & Society, 15(1). Retrieved from http://www.socwork.net/sws/article/view/495
Magazine or Newspaper Article from a Website:
Reed, N. T. (2017, December 14). Life on Mars: Exploration & evidence. In Space.com. Retrieved from https://www.space.com/17135-life-on-mars.html
Interview Available Online
Jabbour, A. (Interviewer) & White, R. (Interviewee). (1999, July 21). Commentary on pow-wow princess song [Interview audio file]. Retrieved from American Folklife Center website: https://www.loc.gov/item/omhbib000399/
Online Film from a Library Database:
The planets [Video file]. (2006). Retrieved December 18, 2019, from https://fod.infobase.com/PortalPlaylists.aspx?wID=102922&xtid=34741
How would that look on a Reference page?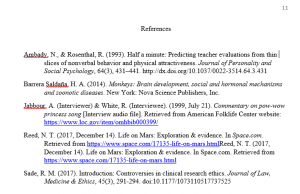 Where can I find a manual on campus?
The Hamra Library has a copy available for on campus use. You can also ask at the Carol Jones Writing Center. To purchase a copy of the manual, try the bookstore or, to buy online or elsewhere, use the ISBN-13 number: 978-1433832178 to find the exact copy you see above.
I have questions, who can I ask?
We're here for you. Both the Carol Jones Writing Center, and the library have resources to help! For writing, setting up your works cited page, and or formulating ideas, check out the Writing Center. If you need help with starting your research, finding sources to fit your assignment, requesting a book or article, or even finding your classroom, we're here to help.
Why do I need to worry about citing?
It is always important to give credit to the creator of the work or idea you're borrowing. When using a source, remember that it's your ideas your instructor wants to read. Think of the source as your evidence to back up your ideas, not to be the central idea.
What's the difference between APA and MLA?
APA stands for American Psychological Association. APA is used in research that is more time sensitive, and the date is given at the beginning of each citation, while MLA is less concerned with dates, and more with authors and titles. In APA, only the author's full last name and first initial(s) are included, and only the first letters of the title and subtitle are capitalized. See the example below.
APA:     Grisham, J. (2017). The rooster bar. New York, NY: Doubleday.
MLA:    Grisham, John. The Rooster Bar. 1 ed., New York, Doubleday, 2017.
Do I title my source page "Works Cited", "References" or "Bibliography"?
"Works Cited" is used in MLA style, and in APA style, it's "References".
Common elements of all APA citations:
Contributors (last name, first initials)
Date
Article or Chapter Title
Journal or Book Title
Publication Information
What's a DOI? And, do I need it?
DOI stands for Digital Object Identifier. These are usually found in academic journal articles. The DOI acts as a quick and easy way to locate a published source on the web because every number is unique, and it can be used in place of the URL for articles found online.
Do I need to include the URL?
In APA, if you do not have a DOI in your citation AND you found the source online, you should include the URL of the site from which you retrieved the book or article (unless your instructor says otherwise). If you are in a library database, use the URL found by clicking the Permalink tool.
What is the format of APA Style?
APA Style papers include a title page, running head, reference page, and sometimes an abstract. APA Style is double spaced, 12pt Times New Roman font, with 1"margins.
What is a title page?
Unlike MLA, APA papers require a title page. Like the title page in a book, this lists the information about you, and who you're writing for, centered in the paper: Title, Author, University, Instructor, and Due Date. It also may include a running head along with the page number at the top (ask your instructor whether they require a running head or not). If it is required, your title page will look as follows.

What is a running head? 
According to APA 7th edition, student papers no longer require a running head. However, your instructor may wish for you to have practice in the professional style. Be sure to ask.
The running head goes in the header of the title page, and every page after that has the running head and the page number at the top right of the page and the running head at the top left of the page. If your instructor does not wish you to use a running head, the page number is all you'll need in the top left corner.
A running head is the title of your paper, carried over to each page. The running head is in all caps, and should contain no more than 50 characters including spaces and punctuation. The header on your title page/first page should have "Running head" before the title. After the title page(s), the header should have just the title and page number.
Title Page 1:

Page 2, and all pages after should look as follows (if a Running Head is required), if not just put the page number:

The running head on the first page is different from the rest of the paper. To set this up in Microsoft Word, you can to double-click on the Header of your paper, select the Design tab, and check the box marked Different First Page. Then you can edit the header of your first page separate from the rest of the paper.

For more information on how to set up the Running Head, in both Word and Google Docs, check out the quick video below.
I've heard there's a website that can set up my citations for me?
A popular citation building website is called KnightCite. You can select between APA, MLA or Chicago and then fill in the blanks of information you have, based on the type, and it'll generate a citation for you.
I still have questions?
Don't worry. Citing can be hard, but we're here to help. If you have any questions, please feel free to reach out at anytime. Remember to call or stop by the Writing Center, or visit us at the Library today.