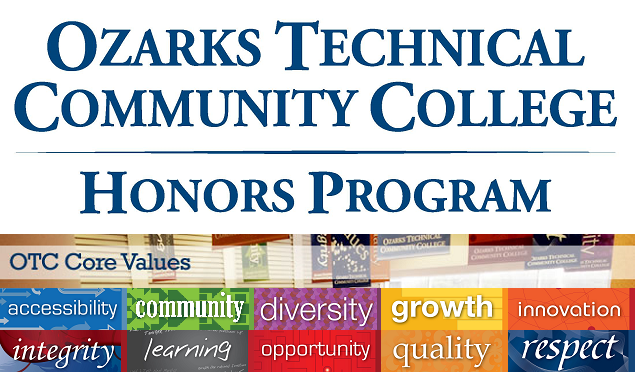 Do you ever want more out of your education? Are you tired of taking the same classes taught the same way and getting the same experiences and results as everyone else? Do you have a great GPA but not much else to show for it? Anthropologist Roger Lewin once said, "Too often we give our students answers to remember, rather than problems to solve."  If you want more out of your education, more out of your life, more out of your college experience, then you should join the Ozarks Technical Community College honors program.
About the OTC Honors Program
OTC designed the honors program for high achieving students who want more out of their college experience. Our program encourages students to embrace a lifestyle of learning and investigation. Joining gives students access to new opportunities and encourages them to seek out excellence both inside and outside of the classroom.  Students involve themselves with this program because it is about more than just taking great honors courses: It's about connecting with other honors students and faculty, exploring and creating opportunities, and elevating our students' appetite for learning and personal growth.
Our goal is accessibility for as many OTC students as possible. This program offers degree tracks in general education, allied health, and technical education, which allows students to complete their desired degree with distinction from the honors program.
To complete the OTC honors program, students must successfully complete the following requirements:
Complete a minimum of five honors designated courses (or 15 honors credits) prior to graduation
Dedicate a minimum of 30 hours of service with a single non-profit entity through the HON-290 Service Learning course
Maintain a 3.5 cumulative GPA
Goals of the OTC Honors Program:
Encourage critical thinking through curriculum that requires analysis, interpretation, synthesis and problem solving
Provide an enriched and innovative program of study to students who demonstrate a motivated and inquiring attitude toward education
Foster team building, collaboration and leadership through the skillful use of communication
Promote responsible and challenging actions for the common good as active, engaged citizens
Build a network of academic and community resources