MLA stands for Modern Language Association. It is the citation style used most often by the liberal arts and humanities.
Where do I find a manual on campus?
The library has copies of the 9th edition available to use on campus. You can also check the Bookstore to purchase a copy. For purchasing at an alternative store (such as Amazon, Barnes and Noble, etc.), you can use the ISBN-13: 978-1603293518 to find the exact copy. 
I'm struggling, can someone help me? 
Of course! If you have any questions, we're here to help. You can chat with us 24/7 on our chat feature, email us or set up an appointment to go over your project. All of these can be found on our library page. We can help you cite, find resources, and much more. Not sure what to write about? Be sure to visit the Writing Center. They can also help you come up with an idea, get your thoughts on paper, and set up your citations.
Quick Tips: 
What is a "Works Cited" page?
Your Works Cited page is the MLA equivalent to the bibliography or references page used in differing formats. This page is where you include your citations (in alphabetical order by author), so that your reader can find where the source you used originated.
Common elements of all MLA citations:
Author
Title of Source
Title of Container
Contributors
Version
Number
Publisher
Publication Date
Location
 Note: Not ALL of these are available in every source that you cite. Use it as a template to know what comes when, if you have it. If you do not, then move on to the next element.
 According to the 9th edition of MLA the city of publication is not necessary on works written after 1900. So, although you may include the city of publication on some works, it is not necessary.
What's a DOI? And, do I need it?
DOI stands for Digital Object Identifier. These are usually found in academic journal articles. The DOI acts as a quick and easy way to locate a published source on the web because every number is unique, and it can be used in place of the URL for articles found online.
Do I need to include the URL?
MLA's 9th Edition does recommend that you include the URL in the Location portion of your citation. When writing the URL in your citation, you can omit "http://" or "https://" to save space. If you include a DOI in your citation, you do not need the URL (unless your instructor says otherwise).
If you have a super long DOI, you can shorten it via this website: https://shortdoi.org/
Why do I need to worry about citing?
Citing is a way to give credit to an original author's work/thought. When integrating sources into a paper, remember that it's your ideas your instructors want to read. So when using a source, stay focused on what you are trying to say, and how that source relates to it. And if the information is not your own idea, or is not common knowledge, you need to cite a source.
As a rule of thumb, don't use a quote when you could use a paraphrase or summary.
Your words & ideas > Summary > Paraphrase > Quotation.
What if I summarize a whole article or book? Do I need to cite then?
Yes, this requires a citation. Even if you are summing up a whole book or article in a sentence or two, ultimately you are using someone else's knowledge and ideas. Put your citation at the end of the summary, whether it's a sentence or a paragraph.
Example (MLA format):
Summary with in-text citation:
Hanna-Attisha finds that poverty is as toxic to children as the lead in the water in Flint, Michigan and towns like it across the United States (652).
Works Cited Citation:
Hanna-Attisha, Mona. "Flint Kids: Tragic, Resilient, and Exemplary." American Journal of Public Health, vol. 107, no. 5, May 2017, pp. 651-652. EBSCOhost, doi:10.2105/AJPH.2017.303732.
What if I paraphrase?
Even if you summarize or rephrase someone else's work, you still need to cite it. It isn't about the words, it's about the idea. And paraphrase ≠ replace each word using a thesaurus.
Example (MLA format):  
Original:
"Much research has been published on sacred space in the medieval world, the majority of this scholarship focuses on historical spatial practices, or on ways in which medieval concepts of space were actualized in social reality" (Bailey 495).
Paraphrase:
In fact, much of the literature on medieval churches have concentrated on the historical role these sites played in the day to day social lives of women and men (Bailey 495).
Works Cited Citation:
Bailey, Anne E. "Modern and Medieval Approaches to Pilgrimage, Gender and Sacred Space." History & Anthropology, vol. 24, no. 4, Dec. 2013, pp. 493-512. EBSCOhost, doi:10.1080/02757206.2013.813850.
What if I use a direct quote?
Put quotation marks around the borrowed text AND put a citation at the end of the quote.
Example (MLA format):
Original:

Quote:
William Wordsworth's upbringing and home impacted his writing, and "much of his poetry was inspired by the dramatic landscapes of the Lake District, and his work did much to alter public perceptions of that part of England" (British Library).
Works Cited Citation:
British Library. William Wordsworth, British Library, https://www.bl.uk/people/william-wordsworth. Accessed 6 Dec. 2017.
What if I use an oral interview?
Using an interview is just like any other source, following the rules of thumb for summary, paraphrase, and quotation.
Example (MLA):
Summary:
Even a veteran college instructor found that her students were frequently unable to afford the required textbooks for their classes (Doe).
Paraphrase:
The instructor found one student even had to drop a class because the cost of textbooks made her unable to afford a full course load (Doe).
Quotation:
The frustration is evident among instructors and students, as one instructor noted "the cost of textbooks is becoming an impediment to learning for my students" (Doe).
Works Cited Citation:
Doe, Jane. Personal Interview. 22 March 2018.
What if it's common knowledge?
There is some information you can assume your readers know without citing it (for example, the location of the White House). To decide what is common knowledge, it's important to think about the audience your paper is aimed at. Think about who you're writing for and whether an idea will be common knowledge to them.
How Do I Cite that?
Book (with one author):
Davis, Robin. The Star Wars Cook Book: Wookiee Cookies and Other Galactic Recipes. Chronicle Books, 1998.
What if the book has two authors?
Wein, Elizabeth, and Phil Noto. Star Wars: The Last Jedi Cobalt Squadron. Disney Lucasfilm Press, 2017.
Academic Article with DOI:
Williams Jr., Ronald D., et al. "Adolescent Energy Drink Use Related to Intake of Fried and High-Sugar Foods." American Journal of Health Behavior, vol. 41, no. 4, Jul/Aug2017, pp. 454-460. EBSCOhost, doi:10.5993/AJHB.41.4.10.
Academic Article without DOI, from a Library Database:
Carlsen, Brook and Edmund A. Marek. "Why Do Athletes Drink Sports Drinks?" Science Teacher, vol. 77, no. 9, Dec. 2010, p. 48. EBSCOhost, ezproxy.otc.edu/login?url=http://search.ebscohost.com/login.aspx?direct=true&db=sch&AN=56567686&site=ehost-live.
Academic Article from Website:
Sen, Soma, and Yoko Baba. "The human trafficking debate: Implications for Social Work Practice." Social Work & Society, vol. 15, no.1, pp. 1-16. www.socwork.net/sws/article/view/502/1017. Accessed 18, Dec. 2017.
Online Newspaper or Magazine Article:
Liptak, Adam. "Skepticism From Court Over Ban On Betting." New York Times. 5 Dec 2017, p. 14. www.nytimes.com/2017/12/04/us/politics/justices-skeptical-of-sports-gambling-ban.html. Accessed 18, Dec. 2017.
Personal Interview:
Doe, Jane. Personal Interview. 18 December 2017.
What if I found the interview online?
Barack, Obama. Interview by Cliff Ransom. Popular Science. 2015, www.popsci.com/features/interview-with-president-barack-obama/. Accessed 18, Dec. 2017.
An entire website:
U.S. Department of Health and Human Resources. Centers for Disease Control and Prevention, HHS/Open, www.cdc.gov/. Accessed 18 Dec. 2017.
How do I set up my paper?
In the upper left-hand corner of the page, list your name, your instructor's name, the course title, and the date.
All text should be double-spaced, 12 point font (usually Times New Roman).
Create a header with last name and page numbers in the upper right corner.
Indent the first line of paragraphs one half-inch from the left (press the Tab button once).
The title should be centered and the same size as the rest of the text, and every page should have one inch margins.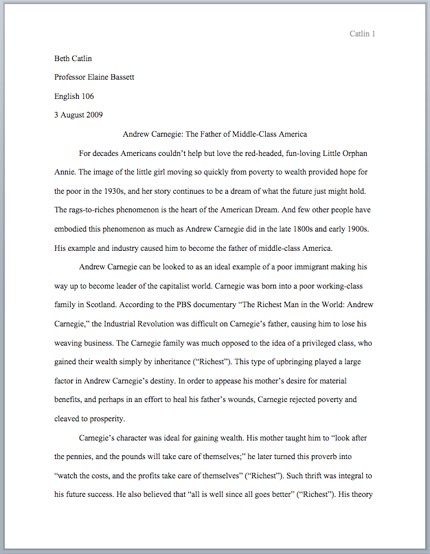 Can you show me how to put the page number at the top? 
In MLA you're going to want to put your last name > page number, 1/2″ from the top, on the left hand side of your paper.
Not sure how to do that in GoogleDocs or on Word? Check out the quick video below.
How do I create a works cited page in MLA Style?
Title the page "Works Cited," and center the title.
Enter your sources in alphabetically by author's last name. If no author is provided then alphabetize by the article's title.
Make sure all of your sources have a hanging indent. To do this, highlight text and right click. Click Paragraph Settings in MS Word, or Format > Align & Indent > Indentation Options in Google Docs. Under Special, select Hanging from the drop down menu.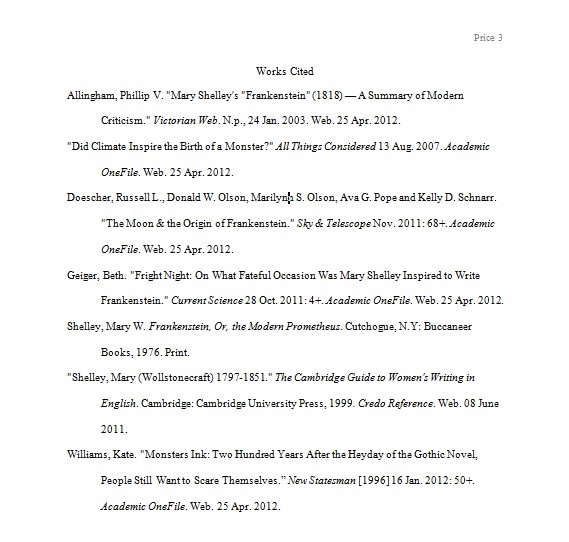 How do I do the hanging indent?
Great question. You can't simply tab over, but luckily there's a solution just as simple.
Check out the quick video below to see exactly how to set that up on your document.
I've heard there's a citation building website?
Yes, there is a popular citation building website called Knightcite. This website can be used to aid in formatting your citations in MLA, APA or Chicago style. Simple fill in each blanks with the information you have and it will generate your citation.
I have questions:
That's a lot of information to take in. Citations can be hard, but we're here to help. If you have any questions, please feel free to reach out at any time.