Instructions for Entering Grades
The following instructions have been developed to aid you in submitting your grades. Please review this process and then click the button below to enter your class list.
Once you have reviewed these instructions, click the button at the bottom of the page to enter the "Faculty Overview" area of OTC Central.
Once you have provided your login, you will be directed to a list of your classes. If you are scheduled for future semester courses, they will also appear in this location. Please select one class from the current semester area. It should resemble the following image.
If you have more than one class for the semester, you will repeat this process to enter grades for each section.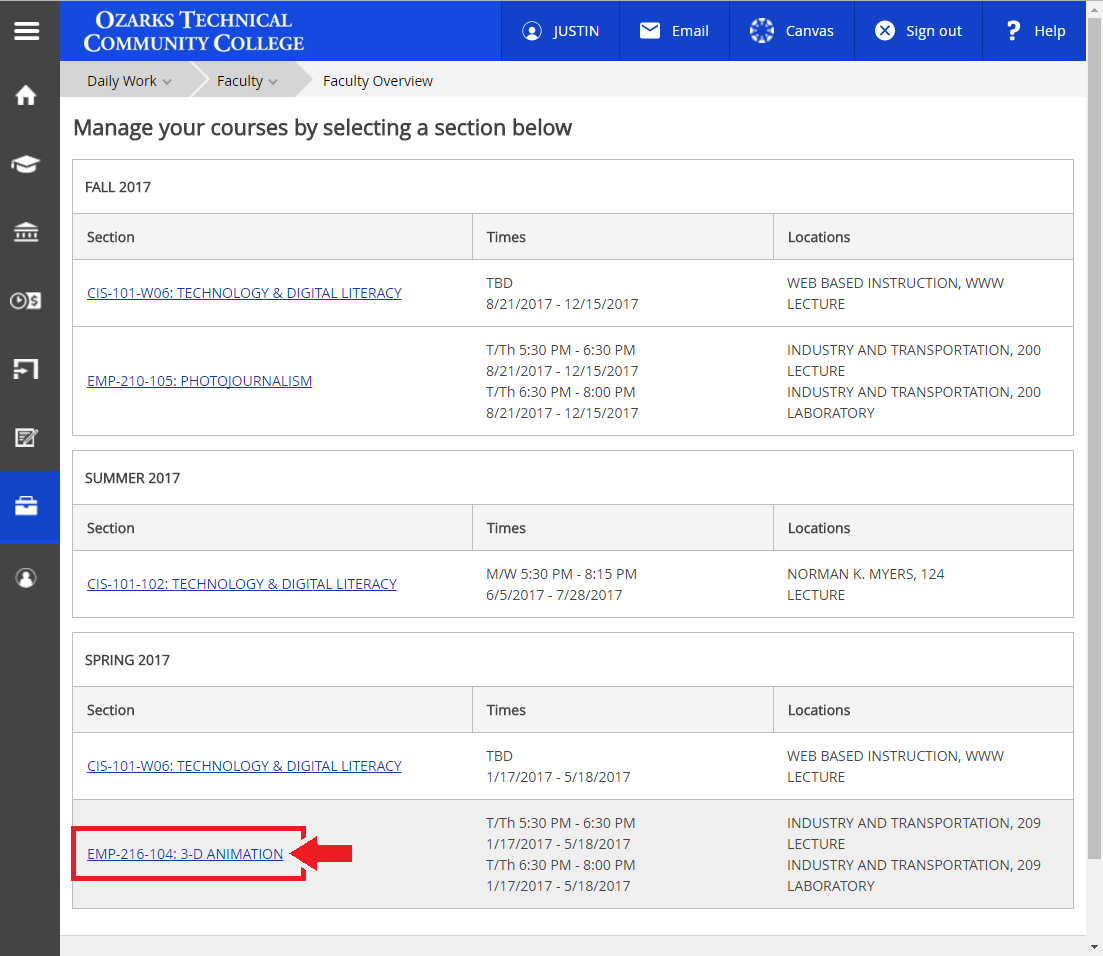 Select the appropriate course from the list. After the course loads, you will see the list of student. You will need to select the "Grading" tab above the students names.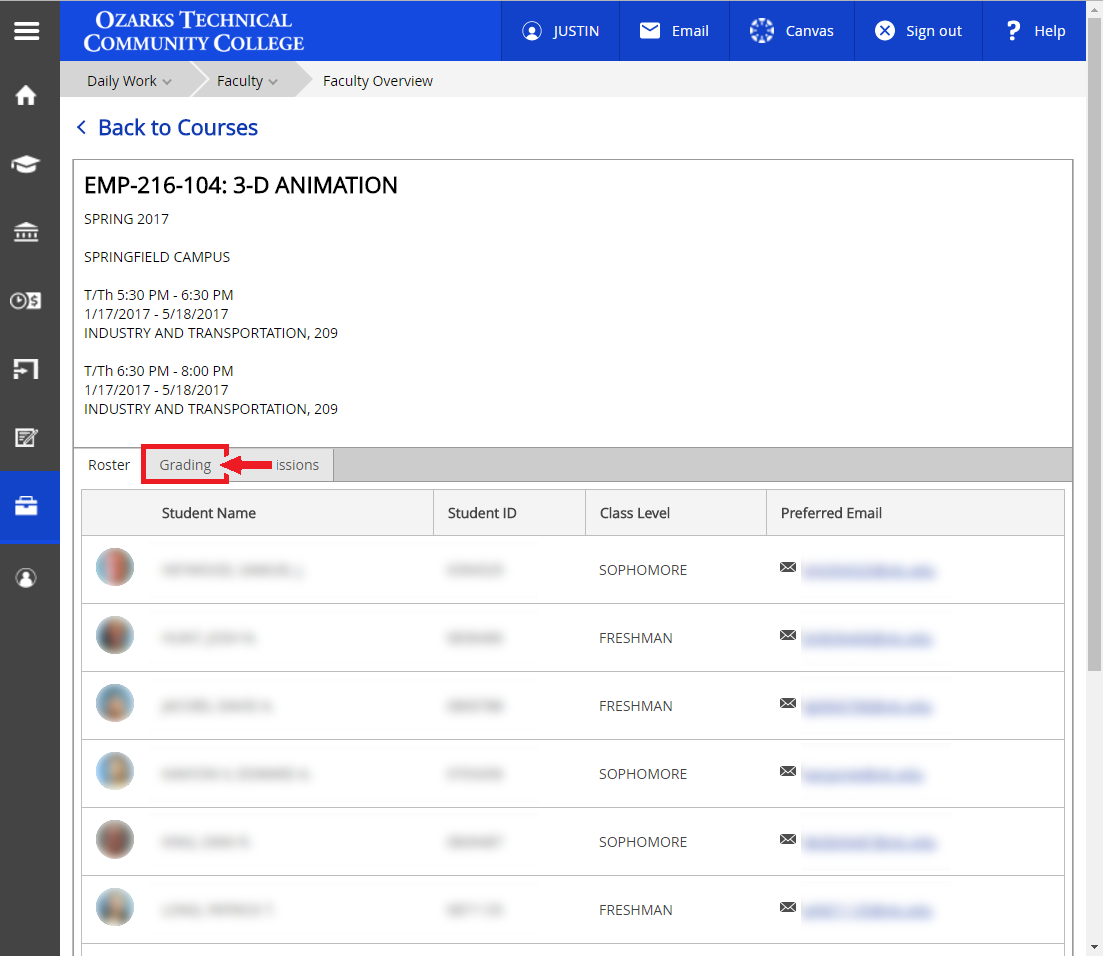 Then click the "Midterm" or  "Final Grading" tab depending on which you are wanting to submit.
Currently, no grade import is available for Canvas courses and the Canvas gradebook, you will need to enter each grade for your students.
If a student currently shows being enrolled in the course but due to lack of attendance they should have been withdrawn, please contact Gavin O'Connor (oconnorg@otc.edu or 417-447-8241) before submitting the grades to get the student dropped from the course prior to final grade submission. If you have any questions, please do not hesitate to ask.
If a student has dropped the course, you may be required to enter a Last Date of Attendance (LDA).
For Final Grade submission, after grades are entered and reviewed, click "Post Grades" in the upper, right-hand corner. Midterm grades do not require any submit process. Grades for midterms are automatically uploaded into the system.
Final grade verification is no longer required to be turned into division/location secretaries for end of semester documentation. So, please do not worry about obtaining that.
Please note the pull-down menu for selecting grades in the picture below.
If an F or I grade is submitted, a Last Date of Attendance (LDA) is required.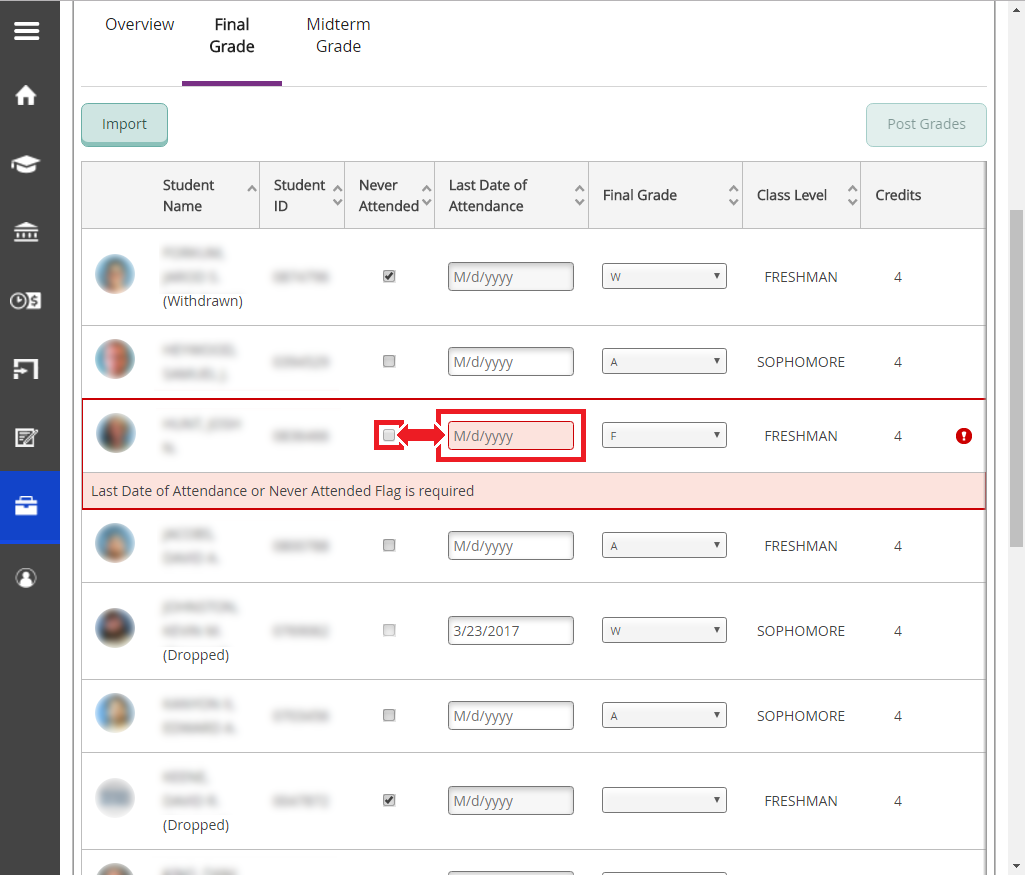 Once you are comfortable with this process, please click to button below to continue on with grade submissions. You will be required to log into the system but it should take you directly to your overview page where your courses are listed.
Please contact Gavin O'Connor if you have any questions on this process.