American Culinary Federation (ACF)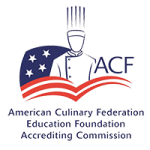 The American Culinary Federation is a professional organization for chefs and cooks founded in 1929 in New York City by three chef organizations: the Societe Culinaire Philanthropique, the Vatel Club and the Chefs de Cuisine Association of America. The goal of the organization is to promote the professional image of American chefs worldwide. The ACF does this through education of culinarians at all levels. The American Culinary Federation is the largest professional chef organization in North America.
The Culinary Arts degree program here at Ozarks Technical Community College is an accredited program of the American Culinary Federation and recognized as an Exemplary Program.  Exemplary Programs symbolize the highest educational standards recognized by the American Culinary Federation Education Foundation National Apprenticeship Committee (ACFEFNAC). The award is presented to programs that have proven full compliance with all ACFEFNAC apprenticeship standards in the last visiting team report along with excellent management of the program. As a student of the program, you will be a part of this prestigious organization through our approved educational programs, membership and certifications, competitions and networking. ACF designs these opportunities to enhance professional growth for all current and future chefs and pastry chefs. Upon successful completion of the Culinary program graduate students who successfully complete all requirements will receive their certification as a Certified Culinarian (CC) and/or a Certified Pastry Culinary (CPC) through the American Culinary Federation.
This certification level is the foundation for future certification through the American Culinary Federation in pursuing a professional career in the foodservice and hospitality industries.
Certification demonstrates to an employer that you:
Have culinary expertise and have reached a set benchmark
Are well-versed in culinary nutrition, food safety and sanitation
Understand the responsibilities of culinary supervisory management
Recognize the importance of high standards for food preparation
Take charge of your professional development and career
We encourage all of our students to take part in the opportunities the ACF offers you as a student and later in your professional career.
Differentiation separates you from the competition! With thousands of chefs competing on the job market, it is essential to prove your culinary competency.