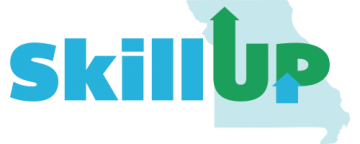 Free job training and employment opportunities!
SkillUP Missouri offers free college tuition and support services (if needed) to individuals receiving Food Stamp benefits. Watch the video below to learn more.
Get Started with SkillUP Missouri
The top two qualifying factors for SkillUp benefits:
You receive food stamps in the State of Missouri and are a Missouri resident.
You are willing and able to go to work immediately upon completion of training.
If that sounds like you, SkillUp may be just the right fit!
Empower yourself and begin your training journey immediately
Contact us today in one of two convenient ways:
Use the feedback form found on this page
Give us a call at 417-447-8894
Jump start the process by knowing the following information
Your full legal name
Date of birth
DCN# or case number through Family Support Division (FSD)
This first SkillUp eligibility verification step typically only takes a 1-2 business days.
Did you know… registering for SkillUp benefits is actually easier than applying for a Pell grant. You won't even need to file a FAFSA!
OTC offers many choices for short-term training resulting in certificates or industry-recognized certifications. Our certificate programs:
Are realistically achievable.
Prepare you for local job openings.
Are a step towards more advanced training and career opportunity!
Click the links below to explore certificate courses which are eligible for SkillUP funding. 
Certified Clinical Medical Assistant
Certified Medication Technician/Insulin
Certified Nurse Assistant
Community Healthcare Worker
Pharmacy Technician
Phlebotomy Technician
Welding Technician
Participating in SkillUp Missouri means more than just free training opportunities. You'll also have the support and encouragement it takes to get started on your training journey.
The team at OTC can help you select an educational program of study. Call us for details at 417-447-8894.
SkillUP Missouri Statewide Partners
SkillUP is a program piloted by the Missouri Community College Association (MCCA) and the Missouri Department of Social Services, Family Support Division and University of Missouri Extension. The program is a component of the United States Department of Agriculture (USDA) Family Nutrition Services (FNS) Supplemental Nutrition Assistance Program (SNAP).
Contact us to get started!
A SkillUP job coach can work with you to create an individual plan to help you reach your goals and start a new career. Call, email, or use the form below to connect with us today for details of how we can help you start your new career.