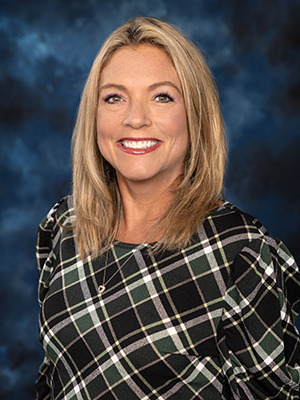 Leigh Williams, RN, MSN, CNL, Ed.D
Program Director – Allied Heath
Email: williamm@otc.edu
Phone: 417-447-8904
Office: Graff Hall Room 101-B
Back Home
Dr. Leigh Williams, RN, MSN, CNL, Ed.D, has been the Program Director for the Allied Health division since 2015. She graduated with her Bachelor of Science in Nursing from The University of Tennessee in Martin, TN. She then went to work for a busy neurology unit and emergency department and finally set up stroke centers around the state of Missouri before settling at OTC. In 2009, she completed her Master of Science in Nursing, specializing as a Clinical Nurse Leader from Central Methodist University in Fayette, MO. She completed the first graduating class for this program. From there she continued her education to include a Post-master's certificate from The University of Missouri – Columbia as a Certified Clinical Nurse Leader in Adult Health. She finally completed her education with a Doctorate in Education with an emphasis in Higher Educational Leadership from Lindenwood University in 2021.
Dr. Williams began her teaching career in Columbia, MO, at the Columbia Career Center, teaching Health Occupations to High School juniors and seniors before relocating to the Ozarks.
Dr. Williams holds credentials from the AACN as an AACNS – Adult-Gerontology and the CNC as a Clinical Nurse Leader (CNL). Dr. Williams was also on the board of the American Board of Neuroscience Nursing to help create the first-ever Certified Stroke Certification Exam for nurses. Dr. Williams maintains her notary status in Missouri.
Dr. Williams lives with her husband, Jeff, and their two dogs in Kimberling City, MO. She enjoys skydiving, scuba diving, kayaking, and traveling. Dr. Williams has served as a provider on mission trips to Haiti and set up the first medical team for her church at Woodland Hills Family Church in Branson, MO.