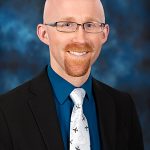 Aviation Department Chair
B.S.ED Missouri State University
BGI, IGI, AGI, CFII
Office: Springfield Campus Suite ITC 109G
Phone: 417-447-6983
Kyle has worked in education related positions formally since 2007. He began his career as a degree holding professional in 2010 as a public school mathematics teacher for high school. He then eventually taught both public and private school, and all grades 3 through 12 as well as post-secondary ranging from subject areas of Math, Science, Writing, Literature, and Spanish. In 2017 he earned his Aviation Ground Instructor Certifications, and in 2018, his Flight Instructor Certificate, and started a new avenue of education – Flight Instruction.
He loves to learn and to help others to learn, getting to know the student, their goals, and helping them to accomplish those goals. He enjoys making the daunting and difficult into understandable and accomplishable. 
Kyle's interests in any form of education has always been to make the learning meaningful, creating instruction that relates to the student and can be readily comprehended and understood in a way that provides application and value to them personally. In the flight program specifically, his goal is to create safe, competent, and capable pilots, who possesses the necessary skills and knowledge to be successful in the challenging and ever-changing world of aviation.