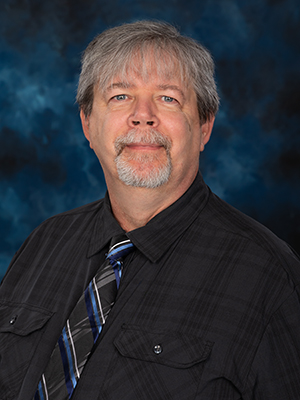 Rodney Boyer
Automation & Robotics Instructor
Office: Springfield Campus Suite PMC-214-11
Phone: 417-512-6874
Rodney is originally from the St. Louis area and worked full time and went to school part time within 6 years to get his 2-year degree with an Associate of Applied Science in Robotics Technology from Jefferson Community College in Hillsboro, MO.
He started his career 29 years ago as a "grease monkey" filling automatic oilers on zinc injection molding machines and worked his way up to lead mechanic/technician on second shift in only 8 months time. From there he moved around to various employers always improving his working conditions and/or salary. He eventually landed in Salem, IL working for a company that makes slicing and packaging equipment for wholesale bakeries (Wonder Bread or Sara Lee). Rodney left there and worked as a consultant when his dad became terminally ill. After his dad's passing, he went back to work full time and eventually got a call from a recruiter looking for a Senior Automation Engineer at Custom Powder Systems in Springfield, MO. He made the move to Springfield and was with Custom Powder for 7 years and spent the last year serving as the Automation Engineering Manager.
Rodney's oldest brother taught HVAC at Vatterott College in St. Louis for many years and always told him that the most satisfaction and joy he got from his entire career was when he was teaching and that if he ever got the chance to teach, try it. So, when the position opened up at OTC for an Automation & Robotics instructor, he decided that it was either now or never. He applied, interviewed and was hired.
Rodney's favorite part of the job is taking a bunch of individual components and making them work together as a single piece of equipment. Now that he's an instructor, he hopes that he is able to change that to taking a young mind and molding them into the best mechanic, designer, programmer, or technician they can possibly be.