OTC Health Information Technology Program
The OTC Health Information Technology (HIT) Program prepares students for work as health information professionals. These workers have a vital role in the healthcare system, managing patients' records and ensuring their privacy. The Bureau of Labor Statistics states that the employment outlook for health information and medical records technicians is expected to increase faster than average for all occupations.
Our experienced instructors train students to apply critical functions of health data collection, analysis, monitoring and maintenance. Students will also learn to ensure patients' privacy by following security laws and procedures for health information and medical records. Graduates will know how to appropriately report health data according to established quality principles as well as legal and regulatory standards.
We offer an Associate of Applied Science (A.A.S.) and a Certificate of Achievement in Coding. The A.A.S. degree provides students with well-rounded coursework while the certificate program is for students seeking to become certified health information coders. HIT graduates work in a variety of healthcare settings including hospitals, behavioral health facilities and nursing homes.
The Health Information Technology Program is accredited by the Commission on Accreditation for Health Informatics and Information Management Education (CAHIIM).
Program Accreditation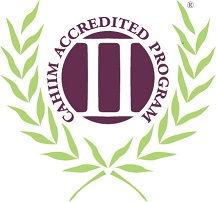 The Health Information Technology accreditor of Ozarks Technical Community College is the Commission on Accreditation for Health Informatics and Information Management Education (CAHIIM). The College's accreditation for the Associates of Applied Science degree in Health Information Technology has been reaffirmed through 2022. All inquiries about the program's accreditation status should be directed by mail to CAHIIM, 200 East Randolph Street, Suite 5100, Chicago, IL, 60601; by phone at (312) 235-3255; or by email at info@cahiim.org.
Graduates from CAHIIM accredited associate's programs can take the Registered Health Information Technology exam and earn the RHIT Credential. Our program prepares our students for this well recognized and essential credential.  We are proud that our students exceed the AHIMA (American Health Information Management Association) credential standards each year.
Student Achievement and Outcomes
For the 2020- 2021 academic year, the HIT program recognized an employment rate of 91% within 6 months of graduation, an RHIT credential pass rate of 77% for first-time test-takers, a graduate satisfaction rate of 70%, and a completion rate of 60%.
Mission Statement
The Health Information Technology program provides accessible, high quality, technical education in health information management that is responsive to the needs of the communities of interest.  Our mission statement is part of our strategic plan and aligns with the OTC Mission Statement.