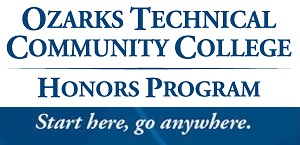 Unique Academic Opportunities through the Honors Program
As part of the Honors program, students have access to a series of unique learning experiences. Along with Honors designated courses, which are smaller in size (capped at 16) and focus more on group discussion than just pure lecture, Honors students are able to participate in several Honors activities throughout the school year, such as the Honors Conference held in the spring.
Honors Program Courses
A variety of honors-only courses are available each semester. These courses run from general education courses to special interest/topic courses in a variety of fields and vary each semester. Click below for the available Honors courses for current/upcoming semesters.
Honors Activities
One of the many opportunities available to Honors students is that chance to visit some of the regions great art and science museums. During of the Fall 2012 semester, Honors students visited the Nelson-Atkins Museum of Art in Kansas City, Missouri as an all-day event which included a guided tour through parts of the museum. In the Fall of 2013, Honors students had the opportunity to visit the Crystal Bridges Museum of American Art in Bentonville, Arkansas. Below are some images from taken during these trips.