Student Showcase Fall 2018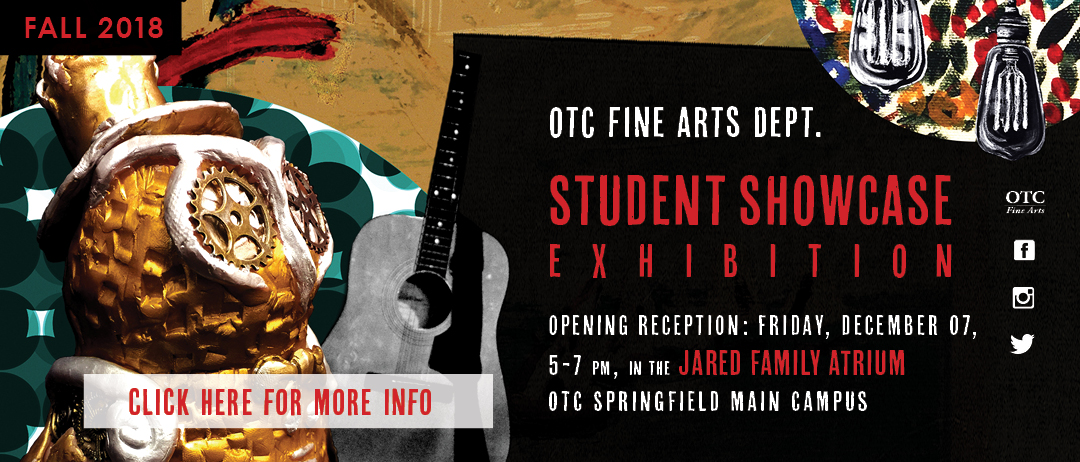 OTC Fine Arts Gallery invites you to attend this semester's Fall Student Showcase.
OTC Fine Arts announces our FALL 2018 STUDENT SHOWCASE EXHIBITION which will open on Friday, December 7, 2018.   We will host a First Friday Art Walk reception from 5-7PM in the OTC JARED FAMILY ATRIUM, IC building, 1001 East Chestnut Expressway, Springfield, MO.   Our visual arts exhibit will be showcased in our student gallery areas on the 1stfloor IC (Information Commons) building, 1st + 2ndfloor ICE + 1st floor NKM (Norman K Meyers) building.
We will have the best on display from our visual arts courses:  Drawing I and II, Painting I, 2 Dimensional Design, 3 Dimensional Design, and Intro to New Media.  MUSIC student performances will also take place from 5PM to 7PM in Jared Family Atrium featuring voice and choir students directed by instructors Dawn Gutierrez and Alberta Smith.  THEATER students under the direction of instructor Jon Herbert, will perform beginning at 7PM in ICE 350.  In "Selfie" by Bradley Hayward, "It's senior year and problems are mounting for a group of high school students as they prepare for the future. Facing bullies, parents, pressure, sickness, and their own self-judgment, the characters search for ways to stand out. As they document their year, one click at a time, they come to realize life is not about what other people see — it's about the pictures they have of themselves."
And "4AM" by Jonathan Dorf (who also wrote the script for our recent production, High School Non Musical) explores "What's it like to be awake when the rest of your world is asleep? Meet an early-morning jogger, a radio DJ whose show may have an audience of none, a modern Romeo and Juliet, the author of a most unusual letter, and many other teen characters as they search for connection in the magic hour. Through a series of connected scenes and monologues, join them on their journey as they discover whether the monster under the bed is real and collectively wonder…is there anybody out there?"
OTC Fine Arts Department and Gallery
(417) 447-8975  |  otc.edu/finearts  |  #otcfinearts