About Early Start
Eligible high school, home school and HiSET students may take OTC classes at any of campus, education center and/or online. Some classes may count toward high school graduation requirements (check with your high school counselor). All OTC classes become part of OTC's college transcript. OTC is accredited and most OTC coursework transfers to other accredited colleges.
All Early Start applicants must complete the Early Start Admissions Process and be at least 16 years old at the time classes begin. We recommend Early Start students take no more than two classes their first semester. Utilize the OTC class schedule, class descriptions,and degree information to help you narrow your class choices.
*Individuals should not confuse Early Start with the term 'Early Leaver' term used by many high schools. Students graduating early from high school in December/January, should follow the getting started steps for First-Time College Students. 
Costs of Course and Course Materials 
Early Start students are responsible for course tuition and fees, as well as course materials, at the regular college rates. Use the hyperlinks below to learn more.
Early Start students are not eligible for federal financial aid. Federal aid is dependent upon a high school graduation date.
Course Tuition and Fees
Required Tuition and Fees, Residency Information, Tuition Calculators and more.
Course Materials
Use the OTC Bookstore site for information on AutoAccess, purchase options, hours, location, and more. Obtaining course materials is step six of the Early Start admission steps to enroll.
For information regarding discounted, online dual credit courses, please click here.
Course and Degree Options 
We have a lot of course and degree options at OTC that Early Start students are welcome to pursue!
Bring all course and degree questions or concerns to discuss with an advisor as part of step four of the Early Start admission steps to enroll.
Scholarships for After High School Graduation 
Ozarks Technical Community College is offering the High School Programs Transition Scholarship to students who earned credit in any of OTC's programs for high school students (Middle College, Career Center, Dual Credit, Early Start or College Now).
High School Programs Transition Scholarship:
This scholarship pays for one college credit course (up to five credit hours) at the in-district Tier 1 tuition rate.
The one-time award is good for the first semester they choose to enroll after high school graduation.
If a student is eligible for the A+ scholarship and receiving A+ dollars, the A+ scholarship would pay first. In other words, this scholarship would not be needed.
Students would only be responsible for the cost of course materials and any associated fees. If they are out-of-district and/or take a Tier II course, students will have to pay the difference in tuition in addition to course materials and associated fees.
To receive the scholarship, students must:
Apply to OTC – If you participated in an OTC class within the last year, and you remember your OTC ID, move on to the next step.
Complete the FAFSA

If enrolling for summer classes: Complete the FAFSA for the current academic year. For example, if attending in summer of 2020, apply for 2019-2020 FAFSA.
If enrolling for fall classes: Complete the FAFSA for the upcoming school year. For example, if attending in fall of 2020, complete the 2020-2021 FAFSA

Complete a scholarship application at OTC's Institutional Scholarship.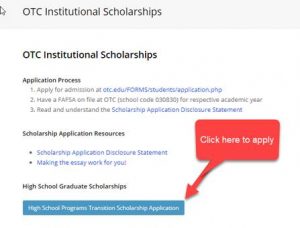 If you have questions about the OTC Application or admissions steps hyperlink, contact admissions@otc.edu
If you have questions about the FAFSA or the High School Transitions Scholarship, contact financialaid@otc.edu