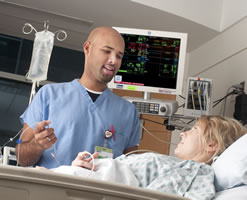 About the Practical Nursing Springfield Program
Interested candidates should go over the following information and resources about the Practical Nursing Springfield program. Our program has received full approval by the Missouri State Board of Nursing. It facilitates the students in becoming safe, conscientious healthcare professionals who are committed to excellence and responsibility. Based on biological, physical and behavioral principles, the practice of nursing involves the prevention of illness, restoration of health and the improvement of life and comfort. The OTC Practical Nursing–Springfield program focuses on bedside care with substantial clinical rotations, a short program length and a fast-paced educational curriculum. According to the Bureau of Labor Statistics, practical nursing will experience a faster-than-average job outlook. There are a variety of healthcare settings that offer employment options to graduates such as nursing homes, schools, physician offices, home health and some hospitals.
The OTC Practical Nursing-Springfield program will prepare the students to:
Utilizing the nursing clinical judgement model and understanding the role of the Practical Nurse.
Apply communication, accountability, appreciation of cultural diversity and health care concepts related to patient care.
Incorporate nursing skills necessary to care for patients across the life span.
Understand pathophysiology, pharmacology and nutritional aspects of health alterations.
Advising Sessions
The program encourages all applicants to attend a nursing advising session to learn what it requires prior to and during the application process. The program offers Practical Nursing advising sessions frequently and no appointment is necessary. Entrance into OTC's Practical Nursing program is highly competitive and completion of all requirements does not guarantee acceptance.
Contact Us
Email questions to crumm@otc.edu, or contact the Health Sciences office in Lincoln Hall, Room 210, on the OTC Springfield campus, 417-447-8803, 447-8804 or 447-8954.
-About the Practical Nursing Springfield Program