Welcome to OTC Health Information Technology.
The Health Information Technology program provides the academics, knowledge, and skills to earn an Associates of Applied Science degree and prepares our graduates to apply information resources and technologies for employment in various healthcare settings and career roles.
The program is delivered 100% online with flexible scheduling. Our dedicated instructors are prepared to assist students at every point of the program.
Program Accreditation.
The Health Information Technology accreditor of Ozarks Technical Community College is the Commission on Accreditation for Health Informatics and Information Management Education (CAHIIM). The College's accreditation for the Associates of Applied Science degree in Health Information Technology has been reaffirmed through 2022. All inquiries about the program's accreditation status should be directed by mail to CAHIIM, 200 East Randolph Street, Suite 5100, Chicago, IL, 60601; by phone at (312) 235-3255; or by email at info@cahiim.org.
Graduates from CAHIIM accredited associate's programs can take the Registered Health Information Technology exam and earn the RHIT Credential. Our program prepares our students for this well recognized and essential credential.  We are proud that our students exceed the AHIMA (American Health Information Management Association) credential standards each year.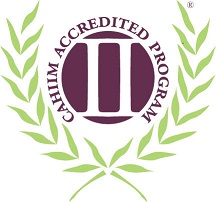 Student Achievement and Outcomes:
For the 2019 – 2020 academic year, the Health Information Technology program recognized a graduation rate of 60%, an employment rate of 87% within six months of graduation, a RHIT Credential certification rate of 100% for first time test takers, and a graduate satisfaction rate of 100%.
Mission Statement:
The Health Information Technology program provides accessible, high quality, technical education in health information management that is responsive to the needs of the communities of interest.  Our mission statement is part of our strategic plan and aligns with the OTC Mission Statement.
Apply here go anywhere!
OTC cannot guarantee that students classified under the Deferred Action for Childhood Arrivals (DACA) program will receive approval to take the licensure exam after program completion. Please contact the state or national agency that administers the professional licensure exam to inquire about licensure exam requirements.