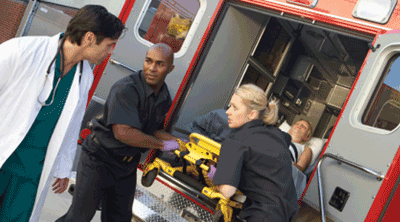 About the Paramedic/EMS Programs
There are two options in the Emergency Medical Services profession. Students in this field can go into EMT-Basic or Paramedic. EMTs and paramedics have a much faster than average job outlook for the future according to the Bureau of Labor Statistics.
Career Opportunities
The OTC Emergency Medical Technician program will prepare the students to enter the profession at two levels:
The OTC EMT-Basic program is the first course to complete and is a six credit hour class which students complete in 16 weeks (8 weeks in the summer). Students who successfully complete the program will qualify for the National Registry practical and written examinations. Successfully passing the exams will qualify the applicant to apply for licensure in the state of Missouri by the Bureau of Emergency Medical Services and by the National Registry of EMTs.
OTC offers the Paramedic program as a certificate program or a degree program. The program consists of classroom lectures and completion of clinical and field internships. Students who complete the degree program will receive an Associate of Applied Science (AAS) from OTC and qualify for the paramedic certification exam through the National Registry of EMTs and licensing through the Missouri Department of the Bureau of Emergency Medical Services.
Accreditation
The OTC Paramedic program is accredited by the Missouri Department of Health & Senior Services and Emergency Medical Services and nationally accredited by CoAEMSP.
In accordance to Federal Regulations, the federal government requires each institution to provide pertinent information regarding Gainful Employment programs.  The information includes general program information, cost, student debt, student completion (graduation) and job placement. Review the Gainful Employment data for your selected program of study.
Contact Us
The program encourages students to attend a General Allied Health Informational session to learn what is required prior to and during the application process. Allied Health office offers informational sessions frequently and no appointment is necessary.